Network data from the NetBlocks internet observatory show that social media backend image and CDN servers were temporarily disrupted in Ecuador with state-run operator Corporación Nacional de Telecomunicaciones (CNT) on Monday, 7 October 2019 amid a spiralling political crisis and widespread protests.
The restrictions were confirmed 11 p.m. Sunday, local time (4 a.m. Monday, 7 October 2019 UTC) as photos began to emerge on social media of military deployments on the streets of Quito and the death of a protester. Data show connectivity to affected platforms was restored by 1 p.m. Monday local time.
Which online services were impacted, and when?
Backend image and CDN servers including those of Facebook and WhatsApp became unreachable for CNT subscribers late Sunday night (11 p.m. Ecuador time).
Network measurements corroborate reports from many Internet users in Ecuador who reported difficultly posting audio, photos and videos online at the time in question, having to resort to VPN services to restore access:
Performance issues began to affect connectivity more generally on the same provider in the following hours, while backend server disruptions continued.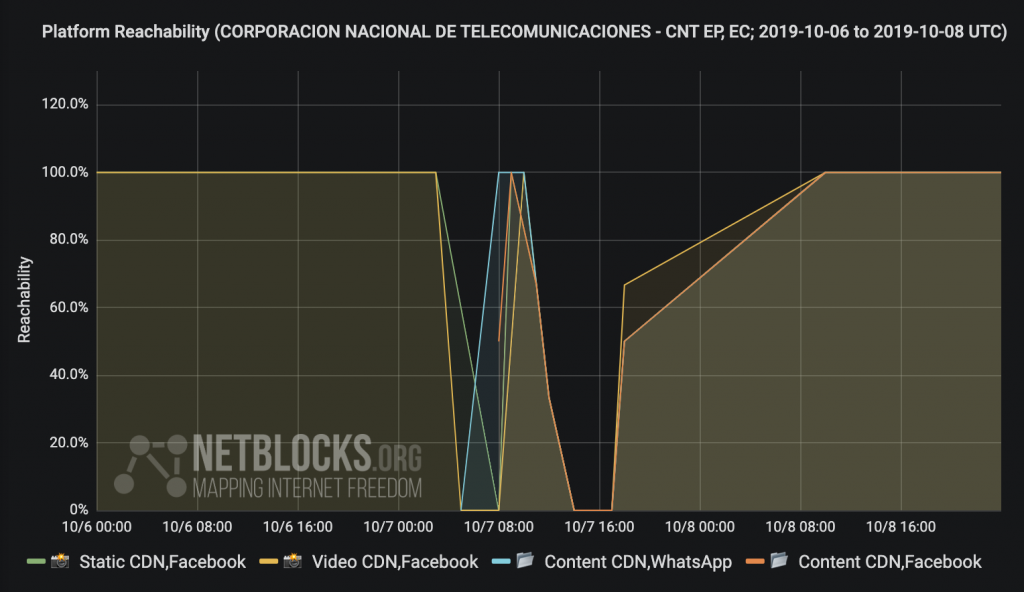 Which providers were affected?
The disruptions were observed affecting state-run operator Corporación Nacional de Telecomunicaciones (CNT). Network measurement data show that connectivity remained stable with other providers during the time in question: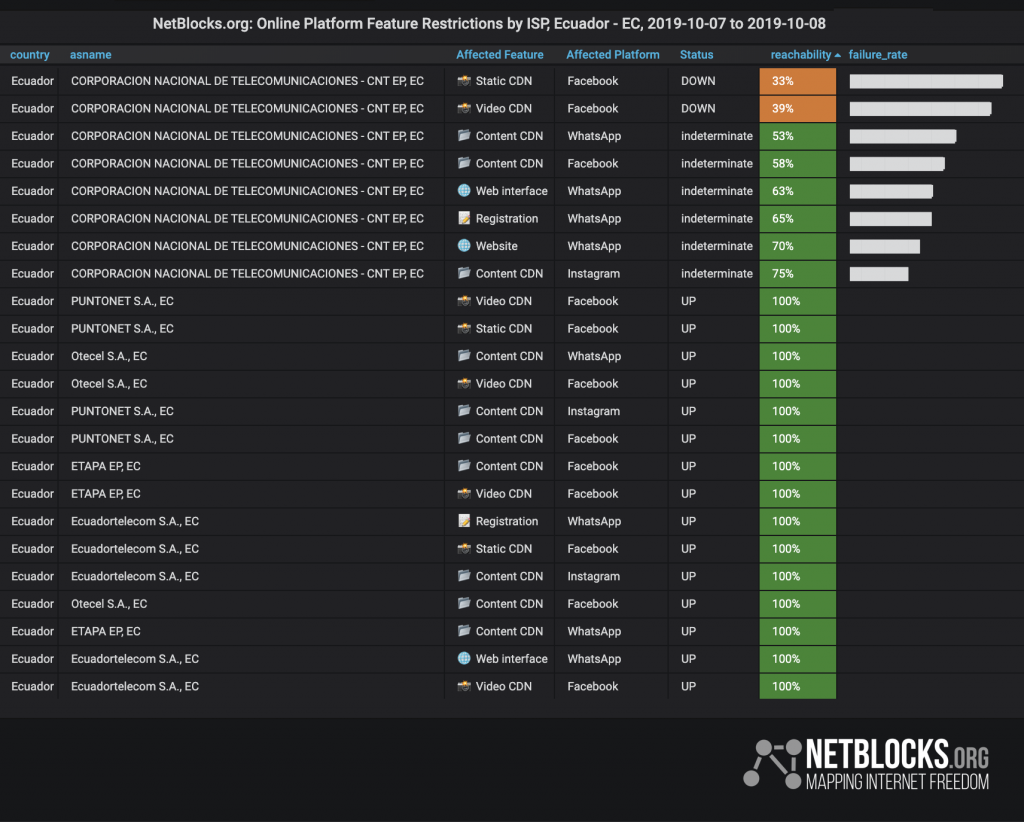 Why has Ecuador declared a state of emergency?
Protesters including indigenous groups and citizens affected by austerity measures have been on the streets protesting for several days.
However, events took a dramatic turn over the weekend with hundreds of arrests, the deployment of troops, several reported casualties at least one confirmed death. A national state of emergency was subsequently declared.
The network disruptions were identified shortly after videos were posted to social media showing armored vehicles rolling onto the streets of Quito:
Users resorted to circumvention tools to work around the restrictions:
On Tuesday, Ecuadorian President Lenin Moreno announced that his government will relocate from the capital city of Quito. The country has since introduced curfews in several regions.
What is the state of internet access in Ecuador?
Ecuador has a diverse internet ecosystem supplied by multiple public and privately-owned service providers. In 2016 a leaked memo appeared to confirm measures to introduce filtering systems such as deep-packet inspection hardware, as reported by the Electronic Frontier Foundation. Nevertheless, access has generally remained free and uncensored through subsequent years.
Conclusion
Measurement data from the period in question show that fixed-line connections where among those affected, ruling out overloaded cell tower equipment as a root cause.
Further, the efficacy of VPN services by users to access restricted services corroborate that the disruptions were not caused by link-layer congestion.
Technical data and user reports indicate that restrictions were applied on the evening of Sunday 6 October 2019, effectively limiting the distribution of audio, video and photographic content for a fixed period.
We thank Fundación Karisma and the Association for Progressive Communications for providing essential context and background for this report.
---
Methodology
Internet performance and service reachability are determined via NetBlocks web probe privacy-preserving analytics. Each measurement consists of latency round trip time, outage type and autonomous system number aggregated in real-time to assess service availability and latency in a given country. Network providers and locations enumerated as vantage point pairs. The root cause of a service outage may be additionally corroborated by means of traffic analysis and manual testing as detailed in the report.
---
NetBlocks is a civil society group working at the intersection of digital rights, cyber-security and internet governance. Independent and non-partisan, NetBlocks strives for an open and inclusive digital future for all.
[ methodology handbook | press | contact ] Graphics and visualizations provided under a free and open license for reuse with clear attribution.