Real-time network data from the NetBlocks internet observatory show connectivity outages caused by Hurricane Dorian as the Category 5 storm approaches the Bahamas as of 3:00 p.m. UTC Sunday 1 September 2019.
Live observations are being used to assess the technical and geographic impact of Hurricane Dorian, to trace the storm's progress and to gauging the resilience of online emergency response mechanisms in affected states. Detections commence Sunday as critical infrastructure in Hope Town falters from 12:30 a.m. UTC:
Abaco Islands network connectivity falls to register below 6% in some areas as of 4:00 p.m. UTC:
The outages are attributed to a combination of localized residential power cuts, identified by the gradual fall in the chart in the earlier hours of the day, as well as wider infrastructure disruptions that have caused the more abrupt declines in connectivity.
Update – 6:40 p.m. UTC: Hope Town has fallen off the internet in large part, with real-time network data showing 0% connectivity amid reports of  a "direct hit" from Hurricane Dorian.
Little to no information currently appears to be emerging from affected areas online, with social media accounts that had been covering the island town now silent:
Torrential rain and storm surges are expected last for days, potentially progressing to impact millions in the U.S. along the Southeast coast from Florida to North Carolina.
Various online emergency resources appeared to be overloaded by user traffic for parts of the day, with edge measurement data showing South Carolina's SCEMD information site becoming slowing to access for a period of approximately one hour after the announcement of mandatory evacuation plans:
Authorities have been using multiple channels aside from their official websites, including social media, mobile apps and broadcast in order to communicate evacuation measures:
Update: A severe telecommunications outage has been registered in Freeport at 2:00 a.m. UTC (10:00 p.m. Sunday local time) as Hurricane Dorian makes landfall on the eastern end of Grand Bahama amid widening power cuts:
Update: A sharp drop in connectivity has been observed as of 7:30 a.m. UTC (3:30 a.m. local time) affecting Grand Bahama Island and having nationwide impact:
Update: Tuesday, 3 September 2019: Many parts of the Bahamas remain offline as of 9:30 a.m. UTC (5:30 a.m. local time) as Hurricane Dorian continues to impact Grand Bahama island. Network data show some restoration of communications in last 12 hours:
In 2018, NetBlocks reported on the network impact of Hurricane Florence as it tore through North Carolina and in 2017 the mapping system was deployed to map Hurricanes Harvey and Irma.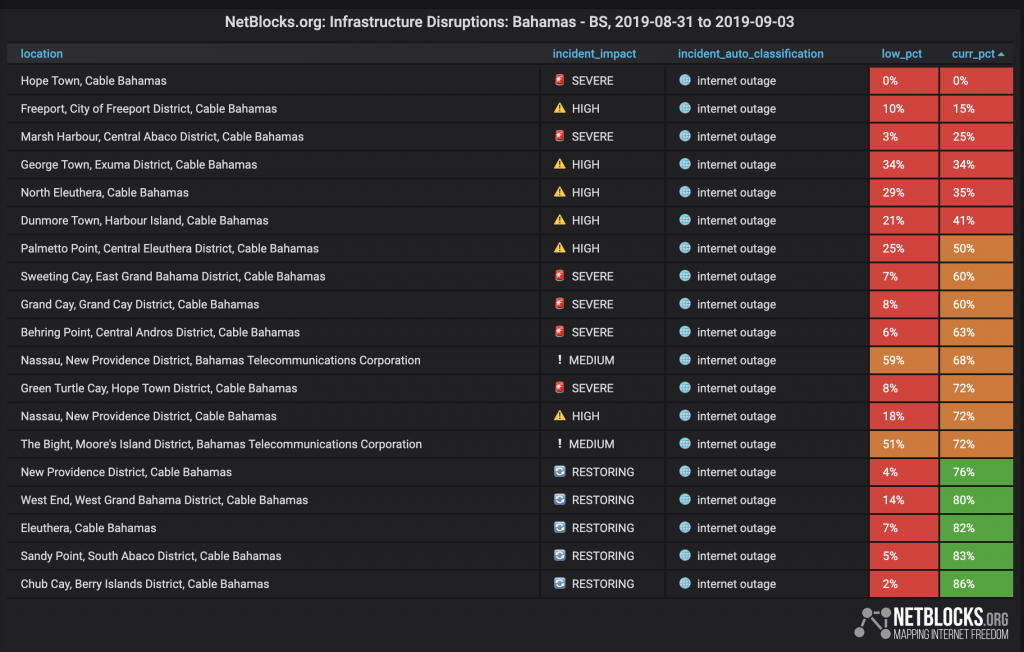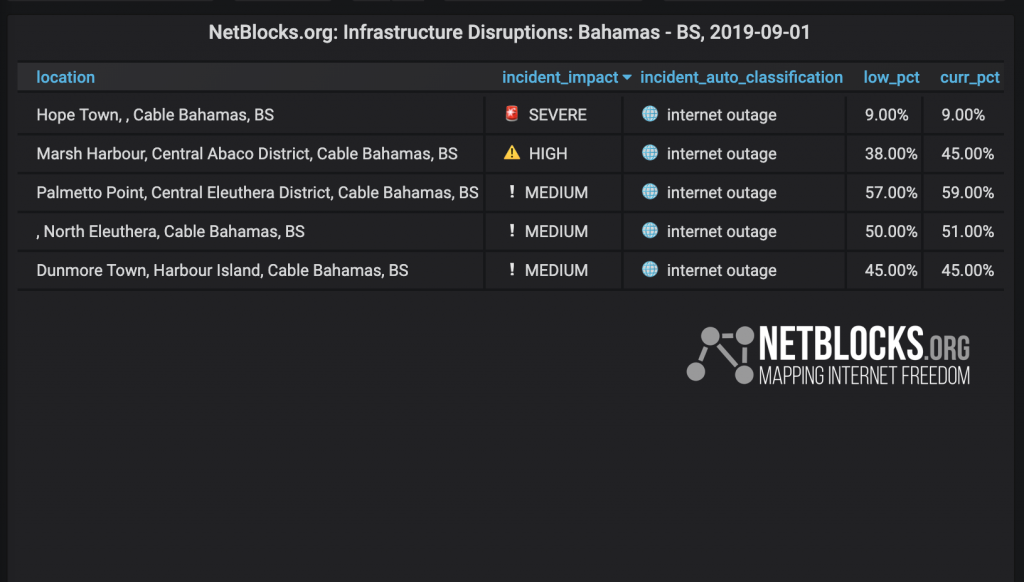 Live article: Report will be updated as new data is processed.
---
NetBlocks diffscans, which map the entire IP address space of a country in real time, show internet outages corresponding to connectivity disruptions. Purposeful internet outages generally have a distinct network pattern used by NetBlocks to determine and attribute the root cause of an outage, a process known as attribution which follows detection and classification stages.
---
NetBlocks is a civil society group working at the intersection of digital rights, cyber-security and internet governance. Independent and non-partisan, NetBlocks strives for an open and inclusive digital future for all.
[ methodology handbook | press | contact ] Graphics and visualizations provided under a free and open license for reuse with clear attribution.