Network data from the NetBlocks internet observatory confirm that India has cut internet access in in the city of Aligarh, Uttar Pradesh on the eve of a significant legal verdict. The internet shutdown is implemented by authorities a day in advance of an upcoming verdict that seeks to resolve a 70-year land dispute between Hindu and Muslim residents which centers around the city of Ayodhya in Uttar Pradesh.
Alongside the internet shutdown, authorities have imposed Section 144, prohibiting an assembly of more than four people in an area subject to up to three years imprisonment, and designated two colleges as makeshift jails for the internment of men and women respectively protesting the upcoming verdict.
The disruption comes shortly after the District Magistrate of Aligarh issued an order for the suspension of internet services from midnight Friday, 8 November. The Ayodhya Ram Mandir-Babri Masjid verdict is due to be pronounced on Saturday, 9 November at 10:30 a.m. local time.
Why has India shut down internet access in Aligarh?
Although India does not implement nationwide shutdowns, the country routinely implements targeted regional internet restrictions to deal with a variety of social and political contexts citing the British colonial-era Indian Telegraph Act of 1885 "in the interest of public safety and for maintaining public order."
Alongside the high profile case of Kashmir, the Ayodhya land dispute ranks as one of India's longest running socio-religious conflicts. Prime Minister Narendra Modi has spoken of his ambition to resolve religious and ethnic tensions, praised domestically by his supporters but coming in for criticism by minorities and segments of the international community, as in the case of Kashmir's ongoing internet shutdown tracked by NetBlocks.
In essence, authorities have anticipated public backlash and riotous celebration from different segments of society in response to the upcoming verdict. The internet restrictions come as part of a package of curfews that seek to ease public acceptance of Saturday's upcoming verdict. The measures are nominally compliant with Indian law, although at odds with the constitution and out of step with public expectations in such a high-profile case.
What is the extent of the internet shutdown?
Technical data indicate that the regional internet shutdown in Aligarh has significant but not total impact, affecting locally operated residential and wireless networks and excluding government networks. This appears to be compliant with the blocking order, which stipulates that infrastructure are to be exempt from the blackout.
The disruption is likely to significantly restrict media freedom and press coverage of Saturday's legal proceedings and surrounding events.
The city at the center of the legal case itself, Aligarh, remains online and unaffected by restrictions at the time of writing according to live network data.
Whatever the outcome of the trial, freedom of assembly of protesters is impacted by the shutdown, and moreover the information blackout has the potential to compromise public perceptions of fairness and openness around the upcoming verdict, contradicting India's legal tenets of transparency.
NetBlocks recommends against the use of network disruptions to limit the rights to free expression and free assembly.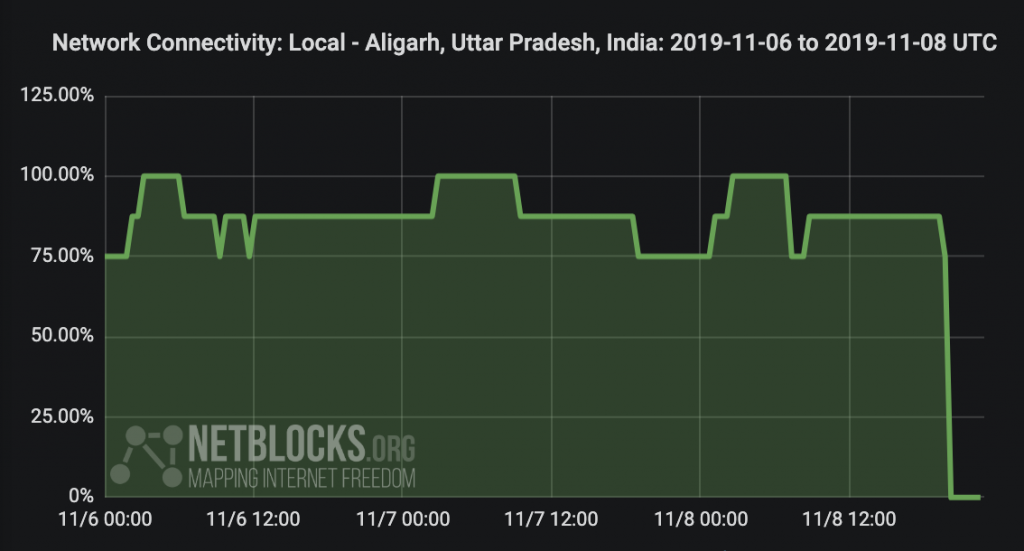 ---
Methodology
NetBlocks diffscans, which map the entire IP address space of a country in real time, show internet outages corresponding to connectivity disruptions. Purposeful internet outages generally have a distinct network pattern used by NetBlocks to determine and attribute the root cause of an outage, a process known as attribution which follows detection and classification stages.
---
NetBlocks is a civil society group working at the intersection of digital rights, cyber-security and internet governance. Independent and non-partisan, NetBlocks strives for an open and inclusive digital future for all.
[ methodology handbook | press | contact ] Graphics and visualizations provided under a free and open license for reuse with clear attribution.