Network data from the NetBlocks internet observatory confirm disruptions with multiple fixed-line and mobile providers in Iran, amid protests against rising fuel prices. The outages have partial (update: now near-total, see below) impact at the time of writing affecting multiple cities including Tehran.
Users first reported outages in Mashhad, which has also seen a drop in connectivity beginning on the evening of Friday 15 November. The disruptions have increased in extent and severity as of 21:15 UTC Friday (12:45 a.m. local time), continuing as of 00:00 UTC Saturday, with impact also visible on overall connectivity charts.
Iran's largest mobile network operators including MCI, Rightel and IranCell subsequently fell offline as of 6:00 pm (14:30 UTC) Saturday amid worsening internet shutdowns as the protests intensified.
Update: It's midday in Iran where technically inclined users have been finding their way online through the filternet this morning.
National connectivity remains at just 22% but real-time network data show coverage has increased:
Update: A small return of connectivity has been tracked in Iran at shutdown hour 113, along with reports that some users have come online; real-time network data show national connectivity up slightly to 8%. It is unclear if restoration will be sustained:
Update: 90 hours after Iran implemented a near-total internet shutdown, connectivity continues to flatline at just 5% of ordinary levels. The information vacuum continues to limit human rights monitoring and coverage of incidents on the ground:
Update: With Iran's near-total internet shutdown now past 65 hours, national connectivity to the outside world has fallen further to 4% as some of the last remaining networks are cut. Despite some network services becoming available for select users, Iran is disconnected and isolated from the world:
Update: Iran has now been offline for 52 hours following a government-imposed internet shutdown targeting widespread public protests.
National connectivity remains at just 5% of normal levels, leaving Iranians cut off from the world as the country enters a fourth day of increasingly severe network disruptions:
Update: 24 hours after Iran implemented a near-total internet shutdown following several hours of regional and mobile blackouts, national connectivity remains at 5% of ordinary levels:
Update: Iran is in the midst of a near-total national internet shutdown as of 18:45 UTC, Saturday. Real-time network data show connectivity has fallen to just 7% of ordinary levels following twelve hours of progressive network disconnections as public protests have continued across the country:
Why are people protesting in Iran?
Although there are multiple causes of discontent, the current protests have been triggered by a surprise rise in gasoline prices. Participants reportedly chanted slogans against President Hassan Rouhani.
The network disruptions are understood to be a response to limit attendance and media coverage of the protests, which come as neighboring Iraq is in the midst of civil upheaval.
What is the extent of the internet shutdown?
On Friday afternoon, mobile and fixed-line outages were first identified in affected cities with Tehran, Mashhad, Shiraz and other cities showing signs of disruption. The outage was not total and the disruptions did not have national impact at the time of writing suggestive of geographic targeting.
Subsequently, the disruptions proceeded to a disconnection of all mobile networks followed by a near-total national internet blackout and partial shutdown of telephony services.
The ongoing disruption is the most severe recorded in Iran since President Rouhani came to power, and the most severe disconnection tracked by NetBlocks in any country in terms of its technical complexity and breadth.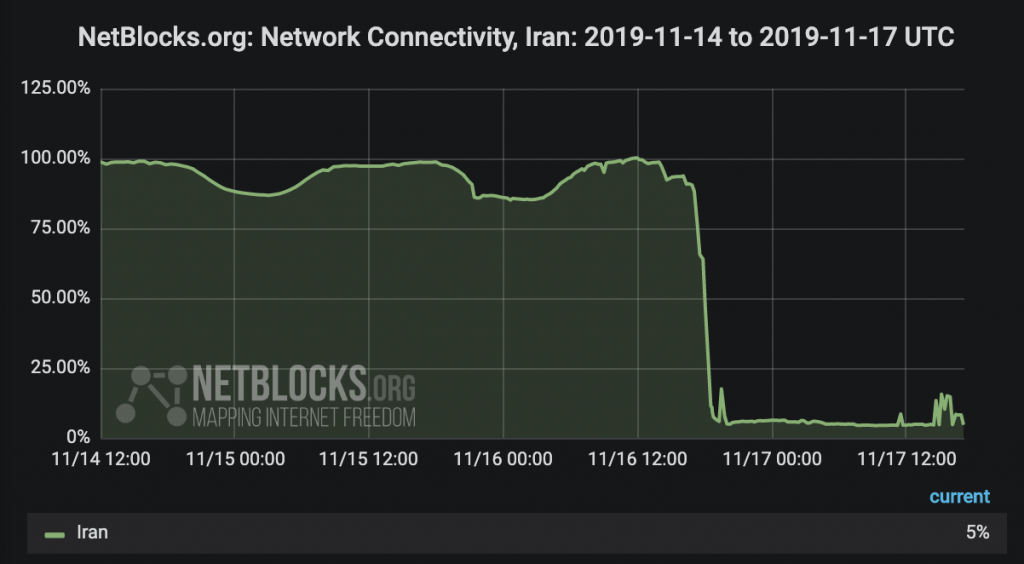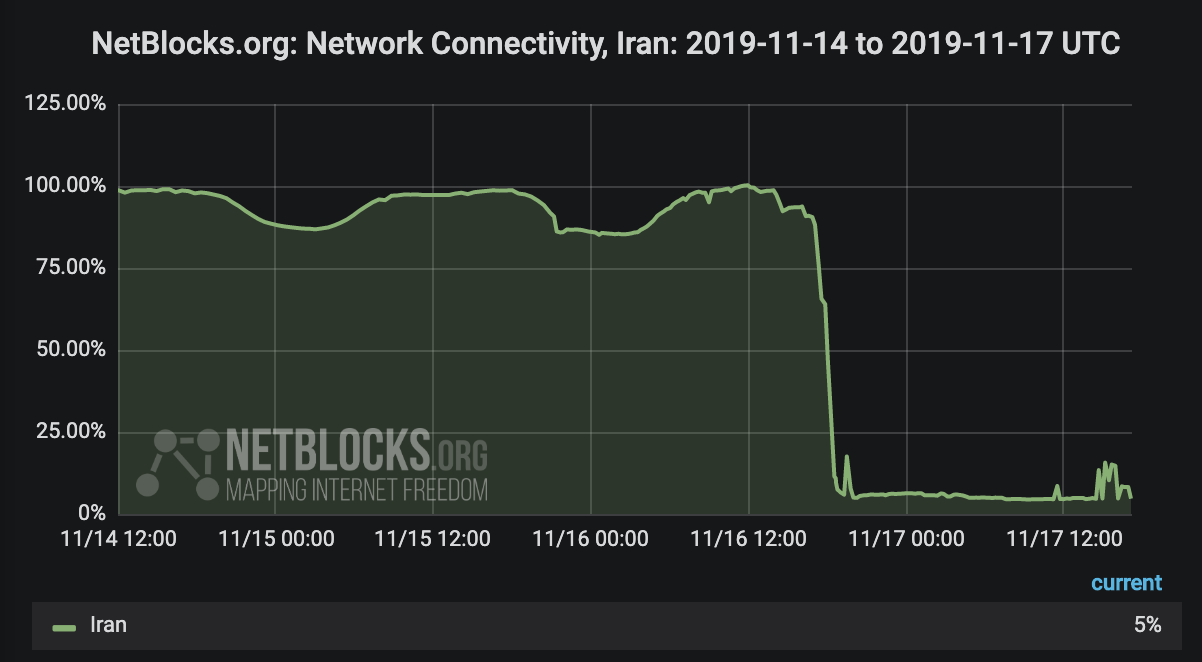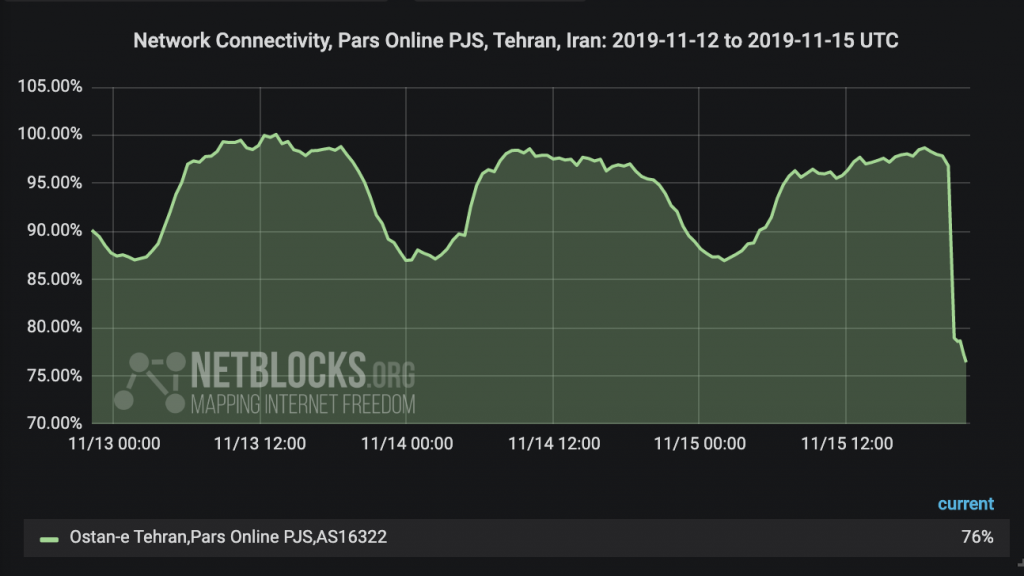 ---
Methodology
NetBlocks diffscans, which map the IP address space of a country in real time, show internet connectivity levels and corresponding outages. Purposeful internet outages generally have a distinct network pattern used by NetBlocks to determine and attribute the root cause of an outage, a process known as attribution which follows detection and classification stages.
---
NetBlocks is a civil society group working at the intersection of digital rights, cyber-security and internet governance. Independent and non-partisan, NetBlocks strives for an open and inclusive digital future for all.
[ methodology handbook | press | contact ] Graphics and visualizations provided under a free and open license for reuse with clear attribution.