Network data from the NetBlocks internet observatory confirm disruptions to multiple fixed-line and mobile providers in Iran on the morning of Thursday, 19 December. The outage had partial but severe impact for just over two hours and corresponded with lesser internet disruptions in nearby countries.
The timing of the new incident in Iran matches outages of YouTube and Google services in multiple countries on Thursday morning.
A modest fall in connectivity was also recorded in neighboring countries including Turkey and Azerbaijan through the two hour time window.
Investigations are ongoing to identify a root cause origin for the internet disruptions.
Background
Iran shut down internet access mid-November amid widespread public protests.
The November disruptions were introduced through 24 hours culminating in a disconnection of all mobile networks followed by a near-total national internet blackout and partial shutdown of telephony services lasting several days.
During that period, access to limited national services became available for some users as part of the country's national intranet, or National Information Network.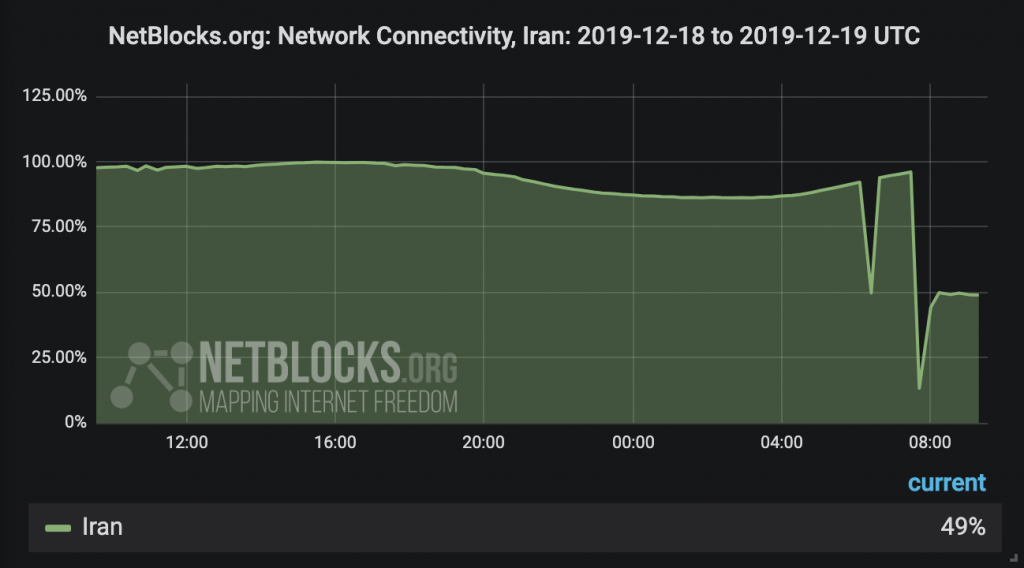 ---
Methodology
NetBlocks diffscans, which map the IP address space of a country in real time, show internet connectivity levels and corresponding outages. Purposeful internet outages generally have a distinct network pattern used by NetBlocks to determine and attribute the root cause of an outage, a process known as attribution which follows detection and classification stages.
---
NetBlocks is a civil society group working at the intersection of digital rights, cyber-security and internet governance. Independent and non-partisan, NetBlocks strives for an open and inclusive digital future for all.
[ methodology handbook | press | contact ] Graphics and visualizations provided under a free and open license for reuse with clear attribution.