Network data from the NetBlocks internet observatory confirm the loss of internet access across parts of Kashmir, amid a growing military presence and curfew reportedly imposed by Indian forces.
Technical data show a disruption to access to India's internet backbone as of 18:00 UTC Sunday, 4 August 2019 following earlier mobile data restrictions, consistent with past recorded internet internet shutdowns in the region.
The telecommunication blackouts are understood to be related to the imposition of Section 144 across Srinagar which limits public assembly.
Although short of a total information blackout, data show the fall of connectivity to 9% of nominal levels in Srinagar, as well as registering significant disruptions in surrounding regions.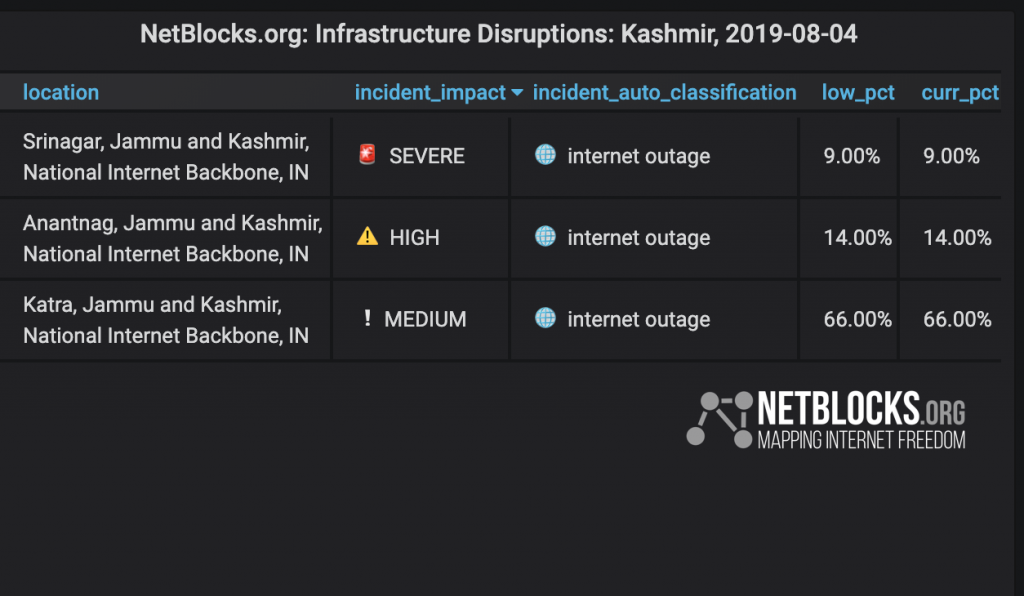 Earlier in the day, sources reported widespread confusion and chaos as people queued up for fuel and supplies.
The disruption is raising concerns for the safety and wellbeing of residents as well as posing a threat to the fundamental human rights of free expression and free assembly.
Update: Monday 5 August 7:15 a.m. UTC: Network data show Internet remains cut in Srinagar, Kashmir over 12 hours after access was shut down on Sunday.
The telecommunication blackout continues amid troop deployments and curfews as India announces plans to revoke Article 370, a constitutional provision that grants special status allowing Jammu and Kashmir to make its own laws:
Update: 14 October, 2019: Mobile traffic data from Kashmir indicate the partial return of cellular connectivity on day 71 of the ongoing internet shutdown, as some users report post-paid packages have started working. However, fixed-line internet, wifi and most mobile connections remain cut:
---
Methodology
NetBlocks diffscans, which map the IP address space of a country in real time, show internet connectivity levels and corresponding outages. Purposeful internet outages generally have a distinct network pattern used by NetBlocks to determine and attribute the root cause of an outage, a process known as attribution which follows detection and classification stages.
---
NetBlocks is a civil society group working at the intersection of digital rights, cyber-security and internet governance. Independent and non-partisan, NetBlocks strives for an open and inclusive digital future for all.
[ methodology handbook | press | contact ] Graphics and visualizations provided under a free and open license for reuse with clear attribution.