Mauritania is in the midst of a near-total internet blackout as of 3:30 p.m. UTC Tuesday 25 June 2019, following contested presidential elections held during the weekend. Real-time network measurement data provide evidence that the country has been disconnected amid the election controversy, with fixed-lines also shut following over 48 hours of widespread mobile internet disruptions.
Mauritania, in Northwest Africa, went to the polls on Saturday to vote in the country's first election without an incumbent presidential candidate since a coup in 2008, in what had been anticipated as a victory for democracy.
However, opposition candidates declared a stolen election after government candidate Mohamed Cheikh El-Ghazouani claimed victory before final results were announced. Citizens complained online that they did not want a return of the military regime, minutes before online voices fell silent.
All of Mauritania's consumer internet providers,  Mauritel, Chinguitel and Mattel, are currently impacted by the outage, with 92% of nationwide connectivity knocked out. A small number of users report that they have maintained degree of intermittent connectivity.
Update: 3 July 2019 – Mobile and fixed-line connectivity have partially returned to Mauritania. The Committee to Protect Journalists is reporting arrests of journalists, raising concern over the internet shutdown's impact on media workers. However, overall connectivity currently remains under 70% of normal levels and some regions are still understood to have little or no connectivity:
The information blackout represents a significant threat to the conduct of democracy Mauritania at a time when transparency is needed to ensure a free and fair transition of power.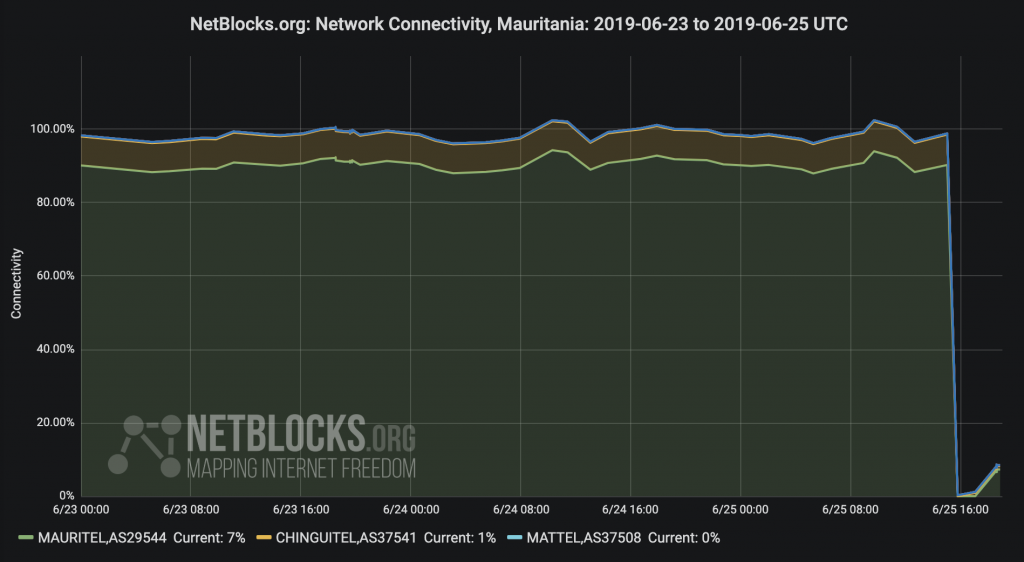 Breaking incident. Article will be updated as new data is processed.
---
NetBlocks diffscans, which map the entire IP address space of a country in real time, show internet outages corresponding to connectivity disruptions. Purposeful internet outages generally have a distinct network pattern used by NetBlocks to determine and attribute the root cause of an outage, a process known as attribution which follows detection and classification stages. Note  that diffscan charts primarily represent fixed-line connectivity unless otherwise stated.
---
NetBlocks is a civil society group working at the intersection of digital rights, cyber-security and internet governance. Independent and non-partisan, NetBlocks strives for an open and inclusive digital future for all.
[ methodology handbook | press | contact ] Graphics and visualizations provided under a free and open license for reuse with clear attribution.