Data from the NetBlocks internet observatory show that Venezuela's state-run internet provider ABA CANTV (AS8048) and private internet provider Supercable (AS22313) have restricted access to Twitter and Instagram as of 4:30 p.m. UTC (12:30 p.m. VET) Tuesday 18 June 2019 during the live streaming of a session of the Venezuelan National Assembly. In the session, parliamentarians are expected to address topics including the release of political prisoner Gilber Caro and plan a response to cases of alleged embezzlement in Cúcuta.
Update: Access to Twitter and Instagram has been restored by CANTV after the conclusion of the National Assembly session, following a two hour disruption: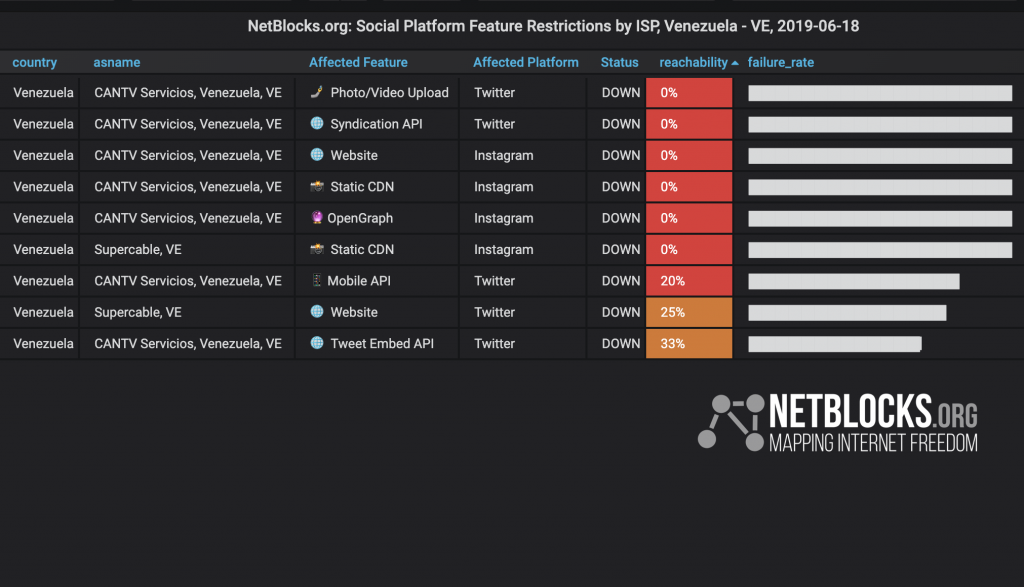 Lawmakers targeted, power cut
Security forces attempted to prevent Venezuelan lawmakers and journalists from entering the federal legislative palace. The Assembly session started late after power to the buildings was cut. Electricity was cut again at 12:55 p.m. UTC and 1:13 p.m. UTC with the session continuing under emergency lighting.
Internet filtering in Venezuela has become increasingly pronounced in recent months, with a series of major disruptions during and after the uprising of April 30 2019. However, blocking of Twitter and Instagram is rare and considered a significant escalation to Venezuela's censorship regime. Access remains possible by use of VPN (Virtual Private Network) tools which can circumvent censorship.
Similar targeted disruptions have previously been observed during public appearances by Juan Guaidó, and during sessions of Venezuela's National Assembly. Meanwhile, several news media and campaign websites remain filtered on a semi-permanent basis.
Past incidents of network filtering in Venezuela have lasted from twelve minutes to over twenty hours, when YouTube was restricted hours before the country's first nationwide power outage. Network data indicates that the platform disruptions are consistent with methods used to block online content in Venezuela.
Update: 19 June 2019 – YouTube, Google services, and Bing have been disrupted during a live-streamed press conference in Caracas covering food security and agriculture with Juan Guaidó, marking the continuation of Venezuela's ephemeral internet blocks:
---
Internet performance and service reachability are determined via NetBlocks web probe measurements. Each measurement consists of latency round trip time, outage type and autonomous system identity aggregated in real-time to assess service availability and quality in a given country across service providers.
---
NetBlocks is a civil society group working at the intersection of digital rights, cyber-security and internet governance. Independent and non-partisan, NetBlocks strives for an open and inclusive digital future for all.
[ methodology handbook | press | contact ] Graphics and visualizations provided under a free and open license for reuse with clear attribution.