Network data from the NetBlocks internet observatory confirm that Turkey has blocked access to social media and messaging platforms in the southern cities of Gaziantep, Şanlıurfa and Hatay, as the country launches military operation Peace Spring into northern Syria.
Internet performance metrics show that Twitter, Facebook, WhatsApp and Instagram are currently blocked by leading internet service provider TTNet, corroborating reports emerging from users based in in the affected region. Access remains possible via other fixed-line and mobile providers, and VPN tools are effective in circumventing the blocks.
Wartime social media restrictions now in effect
The blocking measure marks the reinstatement of wartime social media restrictions, as the Turkish Armed Forces and Free Syrian Army launch an expansive incursion into northern Syria targeting PKK/YPG and IS groups in the first phase of Operation Peace Spring.
A similar measure was previously invoked during the initial phase of Operation Euphrates Shield on Thursday, 25 August 2016 when social media platforms Facebook, Twitter, YouTube, Vimeo and Instagram were blocked throughout Turkey for a period of seven hours:
Why has social media been blocked in parts of southern Turkey?
Although no broadcast ban has yet been issued to the public, it is understood that the measures are intended to protect details surrounding troop and equipment deployments, particularly the sharing of photographs and videos of convoys which could compromise tactical operations.
Turkey passed an internet "killswitch" into law in 2016, permitting the ICTA regulatory authority to "partially or entirely" suspend internet access due to war or national security needs without the need for ministerial oversight:
When was the last time Turkey blocked social media?
The new restrictions are the first to be implemented since December 2016, when Turkey blocked social media nationally to prevent the sharing of a video showing the immolation of Turkish soldiers by the IS group:
Unlike previous recorded incidents, this is the first time Turkey has imposed a sub-national social media ban, demonstrating an advance in technical capability which facilitates geographically constrained network filtering.
Updates and further incidents
Tuesday, 15 October Turkcell-Superonline Twitter disruption
On the morning of Tuesday, 15 October, Twitter was restricted nationally for a period of 40+ minutes with fixed-line network Turkcell-Superonline (formerly Tellcom).
In this instance, all other major social media platforms remained available. Twitter's embed API was also excluded from the restrictions, allowing third-party websites such as news portals that embed tweets to function in a read-only manner.
Several users reported the disruption on online forums, as well as on Twitter itself:
Users who filed complaints during the outage were told by technical support that the problem was with their application and not the service, despite network data showing a network-wide disruption to Twitter: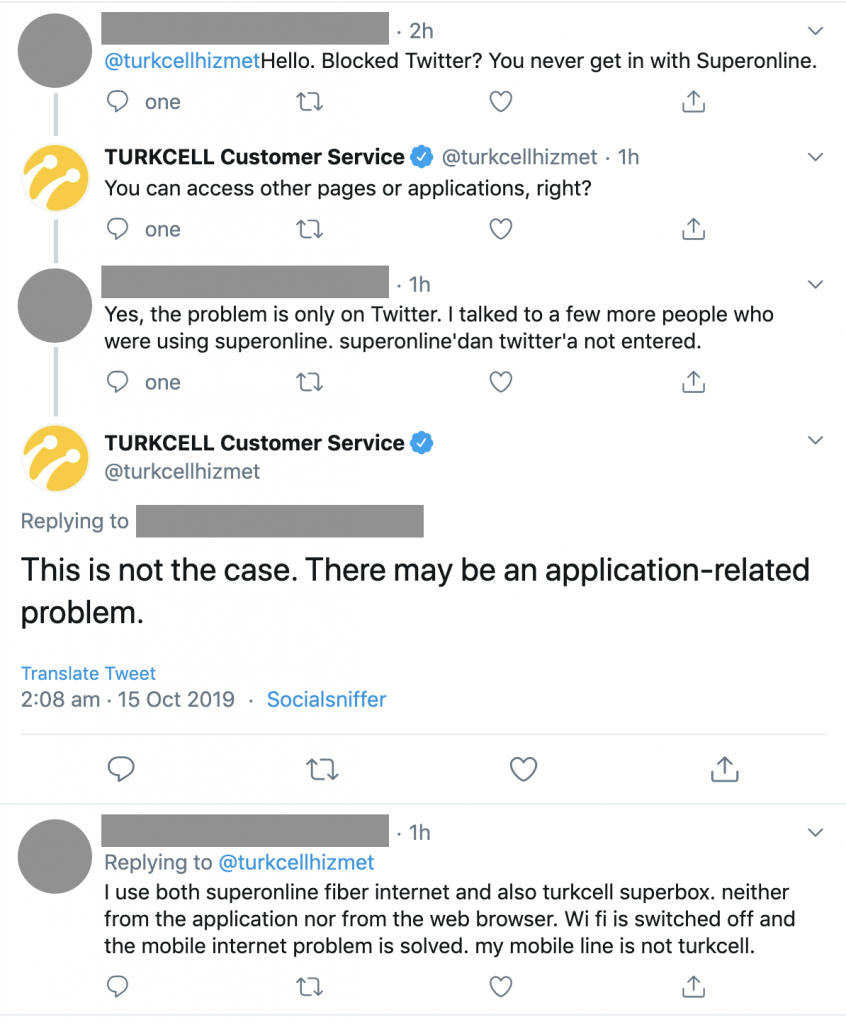 ---
Methodology
Internet performance and service reachability are determined via NetBlocks web probe measurements. Each measurement consists of latency round trip time, outage type and autonomous system identity aggregated in real-time to assess service availability and latency in a given country across service multiple network providers.
---
NetBlocks is a civil society group working at the intersection of digital rights, cyber-security and internet governance. Independent and non-partisan, NetBlocks strives for an open and inclusive digital future for all.
[ methodology handbook | press | contact ] Graphics and visualizations provided under a free and open license for reuse with clear attribution.